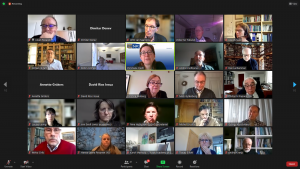 The President of BAS Prof. Julian Revalski, Full Member of the Academy, Scientific Secretary-General of BAS Prof. Neli Koseva and the Scientific Secretaries of BAS Prof. Margarita Popova, Corr.-Mem. Nina Atanasova and Assoc. Prof. Denitsa Borisova participated in a virtual meeting of the European Academies' Science Advisory Council (EASAC) on 2 and 3 December 2021.
One of the main topics of the meeting was related to the activities of the member academies regarding climate change, the UN Climate Change Conference (COP26) and the Fit for 55 package.
Prof. Koseva familiarised the participants with the activities of BAS related to the fight against climate change. A few examples that were mentioned:
A model developed by the Academy to assess the risk of forest fires and to plan prevention activities;
Participation of BAS scientists in the national research programmes "Environmental Protection and Reduction of the Risk of Adverse Events and Natural Disasters" and "Low-carbon Energy for Transport and Domestic Use";
The project of BAS "Enhancing the Innovation Capacity of the Bulgarian Academy of Sciences in theFields of Green and Digital Technologies".
The Director General for Research and Innovation at the French Ministry of Higher Education, Research and Innovation also took part in the meeting presenting France's scientific priorities and ambitious agenda as the future President of the Council of the EU. Some of France's ideas for better tackling climate change were presented, highlighting the need for better communication with the public on the subject as well as the need for easier access to scientific information.
The meeting also discussed the organisation's activities over the past six months, including EASAC's energy, biosciences and environment programmes. New documents published by the organisation were presented – the report "Decarbonisation of Buildings" , the commentary "Key Messages from European Science Academies for UNFCCC COP26 and COP15" , the workshop report "Tackling the effects of climate change on health in the Mediterranean and surrounding regions"  and ideas for future projects. An update was given on EASAC's participation in the SAPEA project and the preparation of the SAPEA+ project.