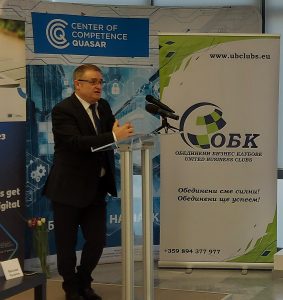 The National Business Forum 2022 under the title "European Green and Digital Industry – Europe's Roadmap to a Unified Quantum Communications Network" was held on 1 March at the Institute of Robotics of BAS. The event was organised by the Centre of Competence "Quantum Communication, Intelligent Security and Risk Management Systems" – QUASAR in cooperation with the Association of Small and Medium Business in Bulgaria "United Business Clubs". The main focus of the topics was the national plan of Bulgaria for the establishment of a quantum communication network, implemented by the QUASAR Centre at the Bulgarian Academy of Sciences, within the European initiative "Euro QCI". The Euro QCI initiative foresees that by 2027 the Member States of the European Union will jointly build a new generation ground and space communications infrastructure that will aim to guarantee Europe's sovereignty and communications security.
The event was opened by the Deputy Minister of Innovation and Growth Ms. Karina Angelieva who focused on the crucial importance of the relationship between science and business for the future economic growth of the country. Video addresses were given by the President of the European Commission, Ms Ursula von der Leyen, the Commissioner and former Vice-Chancellor of Austria, Acad. Erhard Busek, and Prof. Michael Fazekas – Chief Coordinator of the Organisation for Security and Co-operation in Europe.
You can read more about the event here.