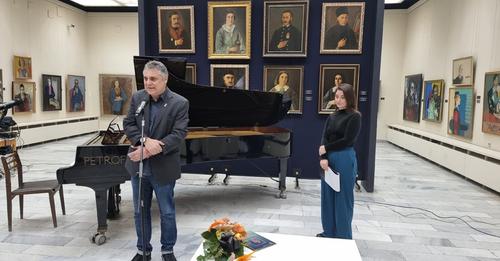 At an official ceremony in "Stanislav Dospevski" Art Gallery in Pazardzhik, the "Rayko Alexiev" National Prize for Humour and Satire and the prizes in the accompanying competition for local authors were awarded.
This year's winner is the writer Corr. Mem. Alek Popov.
It is an honour for me to accept this award but I also accept it with great sadness because we all know what the fate of Rayko Alexiev is – a gifted artist, a tireless and enterprising spirit, a great public figure and a major figure in Bulgarian cultural life, said Alek Popov. The greatest threat to a society is when humour disappears and the ability for self-irony and self-criticism declines – then monsters and nightmares are born, Alek Popov further noted. We must keep the memory of the things that have happened so that they never happen again, the National Award winner said in conclusion.
The "Rayko Alexiev" National Prize for Humour and Satire was established in 2002 by Pazardzhik Municipality and is awarded for overall literary creativity. Its winners in the previous years were Marko Ganchev, Radoy Ralin, Yordan Popov, Vasil Sotirov, Mikhail Veshim, Miron Ivanov (posthumously), Georgi Mishev, Georgi K. Spasov and Rumen Belchev.