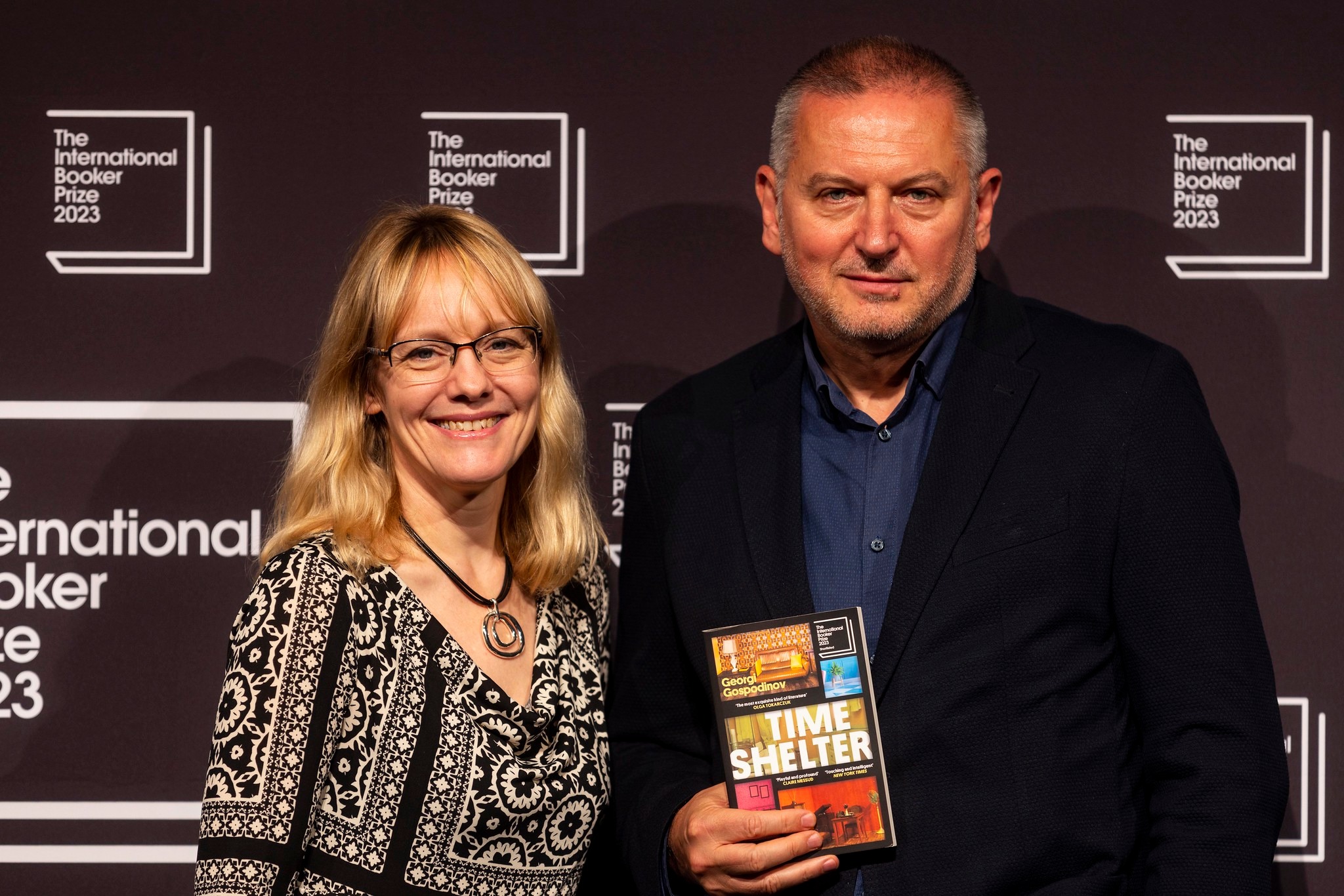 At the ceremony in London, the writer said in Bulgarian: "Happy holiday, happy miracle of language!"
The novel "Time Shelter" by the writer and poet Georgi Gospodinov, who is a corresponding member of the Bulgarian Academy of Sciences, won this year's Booker International Prize. The novel was translated into English by Angela Rodel.
The prize is shared between Georgi Gospodinov and Angela Rodel, giving the author and the translator equal recognition. The winner was announced on 23 May at a ceremony at the Sky Garden in London.
"Writers not only from my country but also from the Balkans often feel outside the sphere of English-speaking attention," said Gospodinov. "It is usually assumed that 'big themes' are reserved for 'big literatures' or literatures written in big languages, while small languages, somehow by default, stay with the local and the exotic. Prizes like the International Booker Prize are changing this status quo, and this is very important. I think every language has the ability to tell the story of the world and the story of the individual," the Bulgarian writer added. He expressed his gratitude to the other writers who were nominated for the award. "Your books are wonderful, I have all of them. It has been an honour to be together, I hope everyone will read them. Thank you to my translator Angela Rodel who built this clinic of the past in English," said Gospodinov.
The writer pointed out that "Time Shelter" is the first Bulgarian book nominated for the award and thanked the jury for their courage to give the prize to it.
Georgi Gospodinov also said that he received the award on the eve of May 24, when Bulgaria celebrates the Day of the Holy Brothers Cyril and Methodius, the Bulgarian alphabet, education and culture and Slavic literature. This is my favourite national holiday, said Gospodinov. At the ceremony in London, the writer said in Bulgarian: "Happy holiday, happy miracle of language!"
According to BNA
In November 2021 the Assembly of Academicians elected Georgi Gospodinov as a Corresponding Member of BAS in the Department of Art and Art History.
He was born in 1968. He is a poet, writer and literary scholar who works at the Institute for Literature of BAS.