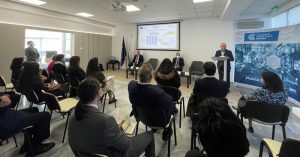 A delegation from the European Commission's Directorate General for Regional and Urban Policy visited on 23 March the Centre of Competence for Quantum Communication, Intelligent Security Systems and Risk Management – QUASAR at the Institute of Robotics of BAS. The EC team, led by Ms Sofia Alves – Director of DG REGIO, visited the International Research Complex of the Centre, where the scientists from QUASAR presented their activities in the field of quantum communications, robotics and multisensor systems.
The Head of the Centre, Academician Chavdar Rumenin, thanked the representatives of the EC for their support in the development of Bulgarian research and emphasized the exceptional role of the European Regional Fund for the overall growth of the European economy, based on investments in innovation, inventions and high technologies. The representatives of the European Commission toured the Centre's laboratory complex, located on the territory of the Institute of Robotics, and had the opportunity to observe demonstrations of real-time quantum-communication, to talk to the Centre's researchers and young scientists, and to learn about their current research and developments in the fields of sensorics, nanostructured materials, multicopters and technologies for critical infrastructure protection.
Among the guests were the Deputy Minister of Education and Science Ms. Vanya Stoyneva, the Head of the EA OP SESG Prof. DSc. Georgi Vaisilov and representatives of the Ministry of Innovation and Growth.