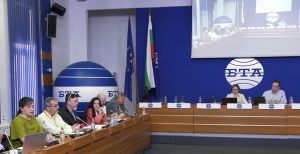 Scientists from the Bulgarian Academy of Sciences participated in a conference on Artificial Intelligence, which the Bulgarian News Agency (BTA) organised within the framework of the initiative "Bulgarian Voices for Europe". The forum was opened by the MEPs Petar Vitanov and Eva Maydell and the Director General of BTA Kiril Valchev.
The Bulgarian Academy of Sciences prepared the draft Concept for the Development of Artificial Intelligence in Bulgaria by 2030. The document offers a comprehensive vision for the development and use of artificial intelligence in our country.
By 2030, perhaps 70 percent of professions will be created by artificial intelligence, said Acad. Chavdar Roumenin, who is from the Institute of Robotics of BAS and Head of the QUASAR Centre of Competence.
The advantages and risks of bringing artificial intelligence into people's lives were discussed by the researchers. Change is happening today, fundamentally upending business, education, professions, communication. The current projects and applications were discussed by Assoc. Prof. Vassil Kirov, Assoc. Prof. Mariana Todorova, Bagryan Malamin, PhD student on the topic of Artificial Intelligence and Asst. Prof. Dr. Stefan Markov (from the Institute of Philosophy and Sociology of BAS) and Assoc. Prof. Svetla Boytcheva, Prof. Petia Koprinkova and Prof. Kiril Simov (from the Institute of Information and Communication Technologies of BAS).
A dictaphone that assists doctors in speech recognition, a new project that aims to develop a brain-machine interface to allow people with disabilities to pass, modeling the Bulgarian language by using elements of artificial intelligence to extract new knowledge are among the developments of the Institute of Information and Communication Technologies of BAS. An Introductory course on the elements of artificial intelligence is also held there.
The use of Internet and the problem of the digital divide and social inequality in Bulgaria, as well as attitudes towards artificial intelligence in three creative professions (translators, designers and copywriters) are explored at the Institute of Philosophy and Sociology of BAS.
In addition to the advantages that artificial intelligence provides, it also poses risks. The discussion focused on specific aspects of the entry of artificial intelligence into our lives. Students, business representatives and journalists took part.
A recording of the conference is available at https://www.youtube.com/watch?v=Pen8q5am6a8